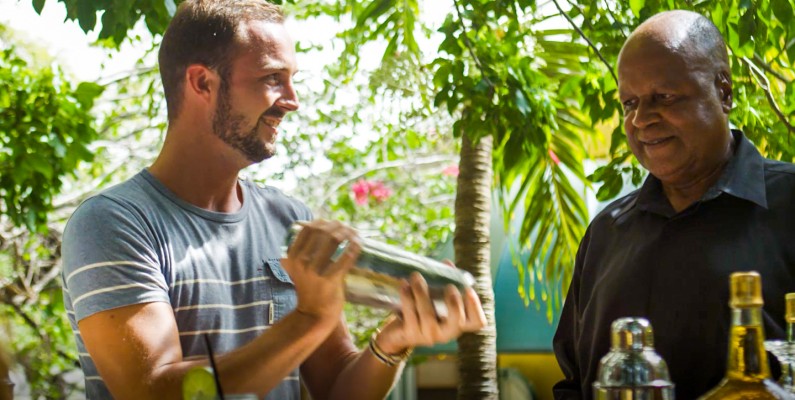 5 Best Food Activities on Curaçao
Get to know the culinary landscape of a culture and you'll know what they like or dislike, how they spend their time, or where they place their values. Every travel foodie knows that you can't visit a place without experiencing its food. So where will you find the best food-related activities on Curaçao?
1. Blue Curacao Cocktail Experience
On Curaçao, we always make comments about how people know Blue Curaçao, but nobody knows that Curaçao is an actual island and that the liqueur is a reference to said island. Landhuis Chobolobo, home of the Genuine Curaçao Liqueur, is the place to be to learn about how the liqueur is made and its importance for the island.
On Fridays, you can join an interactive cocktail workshop. The workshop starts with a welcome cocktail and a tour through the distillery. Afterward, you get to taste 5 different liqueurs while a very charming bartender awaits you in the courtyard of the mansion. In a greenery and historic setting—in between giggles and chats—you get to mix, shake, and drink your own tropical-style cocktail. Of course, made with a Curaçao Liqueur flavor of your choice.
Want more information about this tour . . . then click here.
2. Clarita Food Trail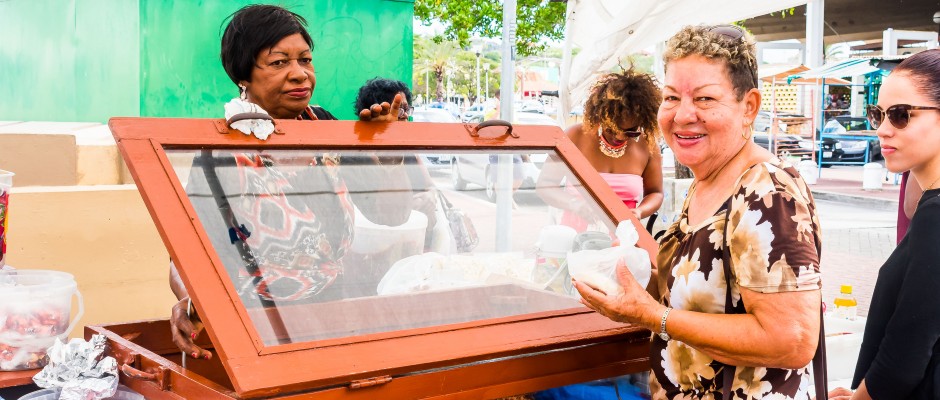 No one can better tell you about the relationship between the local community and its culinary background than a local itself. Clarita Hagenaar, from Clarita Food Trails, offers intimate tours through the city centrum, Willemstad, where she shares her knowledge of the local cuisine. In between, she gives an explanation about the architecture and the history of the island.
Her memories as a child and her experiences in the tourism industry makes her the perfect guide to give all the ins and outs of the island. She's a friendly lady of age with an unbelievable passion for the island and a well-known face.
Her tours are on request only. For more information on the tours and availability, send an email to [email protected].
3. Modern Caribbean Cooking Class
One thing you will learn when you visit Curaçao is that our culture is like a puzzle consisting of many pieces and each piece is a foreign culture. Especially in our culinary culture, you'll be able to see the influences many neighboring countries had on us. During a Modern Caribbean Cooking Class, you'll get to know different ingredients and what you can do with them.
But, the local cuisine is pretty straightforward with little variations. The Modern Caribbean Cooking Class gives a little edge to traditional recipes and, as the name of the class states, a modern touch.
The classes are given on Tuesdays and you can find more information about this class here.
4. Museum Kas di Pal'i Maishi
History and food come into a perfect blend at Museum Kas di Pal'i Maishi. How did people live on Curaçao? How did their house look like? What did they eat? How did they cook? The answer to all those questions are given during a tour at Kas di Pal'i Maishi.
Kas di Pal'i Maishi means corn house. Why it's called Kas di Pal'i Maishi? Join a tour and find the answers. What I can tell you is that this was the type of house most people used to live in and during a tour you'll get to learn how their everyday life was. Of course, a part of their life was food. During the tour, you will also see how their kitchen was, which tools they used, and you get to taste a particular typical dish they made.
Interested in a tour? Check out their Facebook page for more info.
5. Food Festivals
Year-round you'll find different food festivals being organized. Not a surprise since we have beautiful weather year-round and people here love a good fair or food festival. If you're visiting the island then check if there are any food festivals organized around the same time. A few good options are: